LHC Marketing is the affordable solution for all 
creative

needs.

Marketing, promotion, and advertising are vital to any business. Without marketing, your business may offer the best products or services in your industry, but none of your potential customers would know about it. LHC Marketing will help you increase attention, traffic and revenue to your business.
OUR MISSION IS TO HARNESS OUR CREATIVITY & APTITUDE FOR HUMOR INTO A VIABLE MARKETING SOLUTION
Our Talent Is In Demand Across The Southwest & We Are Ready To Deliver.
Meet Your New Best Friends, Our Humor & Marketing Gurus.
HUMOR is a POWERFUL marketing tool. And we know how to use it.
The Right People. The Right Solution.
Humor is a powerful marketing tool and we take advantage of having a team of comedians working for us. Let us show you how to use this amazing tool in making your business grow.

Digital Photography
Images tell a story, share a feeling and reveal information to your viewer.
Images Tell A Story
Rest assure we will use only the best and most beautiful images in your project so it stands out to the world. Our team of seasoned photographers are experienced in all aspects of digital photography.

Digital Videography
From Special Events, to Commercial & Real Estate we are your affordable digital video solution
Digital Video
LHC Marketing has a team of digital videographers that are ready to make your event, product, or business look professional to anyone viewing it.

Graphic & Web Design
No matter what the output, rest assure your content will look amazing.
Looks Amazing
Your content matters most, and needs to be top quality, versatile and available anywhere, anytime. This happens with our graphic design as we work to fit your needs.
We Thrive Ourselves On Creativity, Humor & Determination.
LHC Marketing team is full of creative and determined individuals who will make your project, product, or business  shine amongst the  competition.
We Are Creative
Our team was started by creative people connected by a shared interest in visual artistry. Our clients know that all we need is a basic idea and we can run with it in many different creative directions.
We Know Humor
Our team is composed of  several standup comedians, and comedy writers with years of experience, that know how to use humor to market your product or business the right way.
We Are Determined
We are a determined team ready to take on any project and give our clients the work they deserve. Our determination has helped us launch some of the best and most affordable marketing campaigns.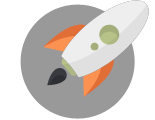 We're Here To Help Your Business Blast Off!
Through Creative Ideas, Innovation & Sheer Determination